Framlingham Castle
Suffolk
England
' By God, sir Earl, you shall either go or hang !'
'By God, O King, I shall neither go nor hang !'
These are the words that were exchanged between Roger Bigod, fifth Earl of Norfolk, Marshall of England and King Edward I when the Earl refused to serve in Gascony in 1297 while the King went to Flanders. This was a typical outburst from a Bigod whose ancestors dating back to the Norman invasion had played an influential part in the upsets and stability of the crown of England from their Castle at Framlingham.
There had been a fortification at Framlingham long before the Normans arrived, perhaps as early as the sixth century, and King Edmund is said to have met the Danes nearby in battle and after sought protection at Framlingham. He was to flee from this stronghold and was later captured and murdered in the forests nearby. Before Domesday it was held by Aelmer, a Thane, and consisted of 24 villagers with a total value of £16. After Domesday under Roger Bigod it had risen to 32 villagers with a value of £36. Excavations for a drain at Framlingham in 1953 uncovered 25 skeletons, some with 8th century dress ornaments, which are thought to belong to the Saxon cemetery.
The first Norman building to appear here was a classic motte and bailey castle of timber, put up using local materials. The earth would have been dug from the ditches and piled up on the inner side which were then faced and topped with timber palisading. This would have soon been replaced with stone, which was not only stronger but made an attack more difficult. It also gave the local population a sure reminder of who was in charge.
The local Saxons seemed to have adjusted well to the transition to Norman rule and suffered far less than others in the surrounding districts. The Bigods became Warlords of East Anglia, taunting sucessive Kings from their refortified castle at Framlingham., and the Howards, who later took over Framlingham as Dukes of Norfolk, also had their fair share of troubles at the castle.
The first Bigod to appear in history is Robert le Bigod, a poor Knight, who gained the favour of William the Bastard, Duke of Normandy, by informing him of the intended treachery of William, Count of Mortain. Robert held the lands of Malitot, Loges and Chanon in Normandy and served Duke William as one of his seneschals. He is described at the Battle of Hastings as;
'Small of body, but brave and bold, he assaulted the English gallantly'
His son, Roger is also believed to have served on the Field of Hastings although there is no mention of him in English records before 1079. He was endowed with the forfieted estates of the Earl of Norfolk, Ralph de Guader who's downfall took place in 1074. In the Domesday Book he appears as holding six lordships in Essex, and 117 in Suffolk. In 1101 he was given the estates of Framlingham by Henry I which were to become the principal stronghold of the Bigods for more than 200 years. Roger Bigod died in 1107, and was suceeded by his eldest son, Willaim Bigod. He drowned in the wreck of the White ship on 26th November 1120 and Roger's second son, Hugh Bigod inherited all and took possession of the estates.
The castle walls from the lower court of the original castle.
Hugh Bigod, first Earl of Norfolk, survived his father's death by 70 years and must have been quite a young child when he died. Little is heard of him for many years until 1122, when he is named as Constable of Norwich Castle and Governor of the City when it obtained a charter from the Crown. He was to soon make up for this quiet start during the civil wars of Stephen and Matilda where he appears to have surpassed even his fellow Barons with his acts of treachery which he maintained throughout his life. His first major action was on the death of Henry I in 1135. He hastened to England and swore to Archbishop William Corbois that the dying King, after some quarrel with his daughter Matilda, had disinherited her and named Stephen of Blois his successor. Stephen's arrival in England soon settled the matter and he was crowned King. At first Stephen's energy managed to keep his followers together, but after a bout of sickness, reports of his death soon started the Barons squabbling.
Bigod was the first to take up arms and he quickly seized Norwich. Stephen was quick to recover and promptly laid siege to the city and Hugh was compelled to surrender. Stephen spared Bigod and for a short time he remained faithful. In 1140 he declared for the Empress Matilda and stood a siege in his castle at Bungay, yet the following year he was fighting in Stephen's army at the Battle of Lincoln. For the next few years he remained in his lands in East Anglia and even settled a squabble in 1148 between Stephen and Archbishop Theobald who he had invited to his new castle at Framlingham. Five years later in 1153 Hugh joined the side of Henry of Anjou who had landed and asserted his claim to the crown. Stephen quickly took Ipswich but was not in any position to punish the rebel Bigod, who later managed to escape.
A reconstruction of life inside Framlingham by Alan Sorrell
In 1154 Henry of Anjou was crowned Henry II and Bigod's earldom and lands at Framlingham were confirmed, but he was soon to start his usual tricks again which Henry soon put down. In 1157 Henry marched into East Anglia and received the Earls submission and he is not heard of again until 1169 when he is named among those excommunicated by Thomas Becket.
In 1173, Henry's son, the young crowned prince Henry, rebelled and this gave Hugh another chance to cause some trouble. Robert de Beaumont, Earl of Leicester, landed at Walton in Suffolk in September 1173 and marched to Framlingham to join forces with Bigod. Together they took the Castle of Hagnet, but Leicester was captured later by Richard de Lacy, Henry's Justiciar after leaving Framlingham. The other Barons turned on Bigod, and not being strong enough, he managed to buy them off thus ensuring a safe passage for the Flemings in his service.
The next year he was in the field again with the aid of troops from Philip of Flanders. They laid siege to Norwich, which they soon took by a direct assault and burned, causing Henry II to return home and march on East Anglia. Henry destroyed Bigod's castle at Walton and was marching on Framlingham when Bigod hastily made a submission to the King at Laleham on 25th July 1174. By now Henry's castle at Orford, 12 miles away, was complete, so he had Framlingham destroyed and Hugh Bigod ceases to appear in history again until his death in 1177 while in the Holy Land with Philip of Flanders.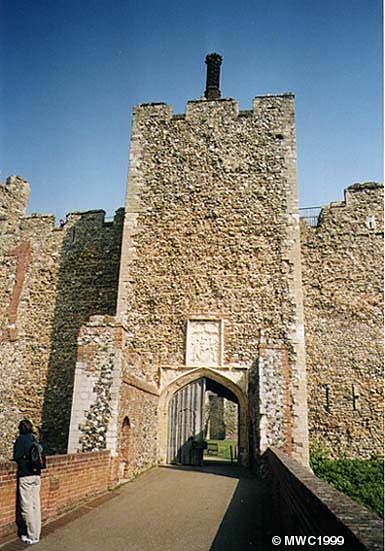 -
The Gatehouse and curtain wall at Framlingham
Henry II confiscated all of Bigod's possessions and his son Roger II appealed with his mother on several occasions for the return of their inheritance. This was denied by Henry and the estates at Framlingham, now with a demolished castle, remained with the crown until Henry's death.
On the sucession to the throne of Richard Coer de Lion on 3rd September 1189, Roger Bigod II was taken into favour and by a charter of 27th November, the new King confirmed him in all his honours, the Earldom of Norfolk, and the stewardship of the royal household. It was around this time that the new castle at Framlingham was built. Roger Bigod second Earl of Norfolk was to remain loyal to Richard and in his absence from England on Crusade he supported the King's authority against the designs of Prince John.
When John succeeded to the throne Bigod gained John's favour. Although in 1215 he joined the confederate barons in a movement which resulted in the Magna Carta on 15 June 1215, and was one of 25 executors, or trustees, of its provisions. Soon after he was excommunicated by Innocent III along with all the other supporters against King John. The following year King John attacked the castle at Framlingham and it surrendered after 2 days, the defeated garrison consisting of 26 Knights, 20 Men-at-arms, 7 crossbowmen, a chaplain and 3 others. Roger had to wait until Henry III succeeded to the throne before Framlingham was returned after the Council of Oxford in May 1221 but the following August he died. He was succeeded by his eldest son, Hugh, as third Earl who, however, only survived his father by four years.
Another Roger, the fourth Earl, was the grandson, through his mother Matilda, of the great William Marshal, Earl of Pembroke. Being a minor at the time of his father's death he grew up under the care of William Longespee, Earl of Salisbury. In 1237 he greatly distinguished himself by his prowess at the tournament at Blythe , Nottinghamshire, in which the rival barons, North and South had a serious encounter. In 1246 Roger Bigod was invested with the office of Earl Marshal in right of his mother because of the failure of the male line. He served his King at home and abroad and was present at the Battle of Lewis on the King's side but later joined De Montfort and held the castle at Oxford with his followers. Little is heard of him until his death in 1270.
The castle wall walk
The next owner of Framlingham was another Roger Bigod, 5th earl of Norfolk, who was the nephew of the 4th earl Roger. His life runs in a parallel with that of King Edward I, and his career is closely identified with the constitutional struggle with the crown in which the barons played an important part. When Edward called a meeting of the barons at Salisbury in 1297, with a view to getting their support on an invasion of France, the barons rebelled, with Bigod, true to his familiy tradition, being at the head of the opposition. It was at this meeting that the famous words I opened this page with were spoken between Roger Bigod and Edward I, King of England.
'With you, O King, I will gladly go; as belongs to me by hereditary right, I will go in the front of the host before your face'
'And without me, you will go with the rest ? '
'Without you, O King, I am not bound to go, and go I will not'
'By God, sir Earl, you shall either go or hang ! '
'By God, O King, I shall neither go nor hang ! '
And he didn't go, and he didn't hang, but on his death in 1307, all his estates passed to the crown with the end of the Bigod Earls of Norfolk.
The inside of the castle from the wall walk, showing the Poorhouse
Framlingham was administered through relatives of the crown for most of the 14th Century until Thomas Mowbray was made Duke of Norfolk by Richard II in 1397. Mowbray was given Framlingham and other estates, but he died in exile and his son was executed for rebellion against Henry V.
His brother, John, was recognised as Duke in 1425 and often lived at Framlingham Castle as did his son and grandson in sucession. Ann Mowbray was engaged to Richard, duke of York, one of the Princes who disappeared in the Tower of London, it was through her that the estate passed to the Howard family.
John Howard repaired the royal castle at Framlingham before his death, leading the Royal army at the Battle of Bosworth in 1485. His son, Thomas, was captured at the Battle but restored to favour and made Duke after sucessfully leading the new King's Army at Flodden. He rebuilt the fine church in Framlingham to house the Tombs and monuments of his family. The rest of the history of the Howards is briefly covered on my site featuring Arundel Castle, where the two castles histories are closely linked during this period.
In 1553, Framlingham castle was given by King Edward VI to his sister Mary Tudor. She stayed at Framlingham while waiting her sucession to the crown, which hung in the balance. Her colours flew over the gateway and thousands of her supporters camped around the castle. The Earl of Arundel arrived to inform her she was Queen, and later the Duke of Norfolk was released from the Tower to return to his estates.
Queen Mary Tudor
In Elizabeth's reign the castle was used as a prison for Priests who defied the Church of England, before being returned to the Howards in 1613. The days of Glory and pomp at Framlingham were over and the Howards preferred their new house at Kenninghall in Norfolk. The castle was leased and finally sold to Robert Hitchen in 1635.
When he died his will ordered the castle to be pulled down except for it's outer walls and a poorhouse was to be built inside. He was also responsible for the building of the Almshouses in Framlingham, which still survive today. The castle was leased to various groups and societies for meetings, after the poorhouse was redundant. It was then owned by Pembroke college. It passed into the care of the state in 1913 and was later given to English Heritage, who run the castle today.
©MWC1999
Framlingham Castle additional information.
Framlingham Castle - is managed by English Heritage.
Open - 1st April - 1st Nov: daily, 10am - 6pm.
2nd Nov - 31st March: daily, 10am - 4pm. Closed 24th - 26th Dec.
Entry - £2-95 / £2.20 / £1-50.
Telephone - 01728-724189
OS Map - No 156 ref; TM 287637.
Local Tourist Information - 01449-676800
Framlingham Castle
The superb castle at Framlingham looks from the outside almost exactly as it did when it was built over 700 years ago. The continuious curtain wall linking 13 towers can be climbed and walked giving excellent views of the surrounding countryside and town of Framlingham. The castle lies to the north of the town, beyond the parish church which contains some fine tombs of the Norfolk family.
The curtain wall is in excellent condition, but nothing remains inside of the original buildings, only the poor House and outbuildings. There is a small carpark at the entrance to the castle which is usually good for a few hours, but at busy periods during the summer or during special events, an alternative can be found a short distance away in the town. The town is a delight with many interesting shops and the church lies at the head and should not be missed.
Nearest Railway Station is Wickham Market, 6 miles. and there is also a bus service available for local routes.
Access to the castle for people with disabilities is no problem for the grounds and ground floor, Guide dogs only are allowed inside the Castle.
An excellent headset tour is available as part of your admission, which I always enjoy.
Framlingham is another of those castles that is perfect for a visit with children who can run about inside until completely worn out. There is also an activity sheet available as part of your admission to teach them the workings of the castle. When on the wall walk, great care should be taken with children.
I must confess I was a little disappointed on my first glance inside the castle as it is only a shell of it's former glory, but a very attractive one all the same. On spending some time walking the battlements, I soon warmed to the place and thoroughly enjoyed my time there. If possible, and if your time permits, a walk around the surrounding ditch below the towering walls outside is well worth the effort. The castle and grounds are excellent for a picnic, with lots of open space and grass, it makes a perfect spot for lunch before your afternoon visit to Orford Castle. The very attractive town of Orford lies12 miles to the south of Framlingham, one of the homes of King Henry II and also featured as a site on these web pages. Orford unlike Framlingham has only the castle keep surviving, but no curtain wall.
All in all a visit to these two sites make for an excellent day out, I can thoroughly recommend them.
© MWC1999
Information on Framlingham Castle was obtained from:
Framlingham and Orford Castles - Derek Renn.
The Castle in Medieval England and Wales - Colin Platt.
From Domesday to Magna Carta - A.L. Poole.
England and It's Rulers 1066-1272 - M.T. Clanchy.
The Oxford Dictionary of National Biography - George Smith.
1066 - The Year of the Three Battles - Frank McLynn.
The Domesday Book - Thomas Hinde.
Medieval England - Colin Platt.
The Three Edwards - Michael Prestwich.
The Crowned Lions ( The early Plantaginet Kings ) - Caroline Bingham.
The Knight in Medieval England 1000-1400 - Peter Coss.
The English Heritage Handbook 1999.
The Readers Digest touring guide to Britain.
-
All pictures marked and text on this page are copyright to the owner
and must not be reproduced in any format without permission
Another Castles Abbeys and Medieval Buildings Site Feature
---
---